Building Quality Realistic Models Since 1969
Here's Academy's latest new-tooled kit for the entry-level market - the 1/72 F/A-18F Super Hornet. Experienced modelers will appreciate the detail and accuracy of the kit while entry-level modelers will have this built-in no time. The kit is also produced in multi-colored plastic with three trees and several separate parts molded in light gray, one tree molded in black, one tree molded in white, and one tree molded in clear plastic. There are even two sets of tails provided - gray vertical stabs for those who wish to paint their models and black vertical stabs for those who will use the VF-103 stickers.
Among the features and options in this kit:
Easy assembly
Nice cockpit
Canopy is molded in the closed position
External stores include:
AIM-9X on stations 1 and 11
AIM-120 on stations 2 and 10
GBU-38 on stations 3 and 9
External tanks on stations 4 and 8
Nothing on stations 5 and 7
External tank on centerline station 6
This release offers two markings options:
F/A-18F, VF-103, AG/200, CAG, 2015
F/A-18F, VF-103, AG/201, Skipper, 2014 (not included as stickers)
The decals and stickers both provide options for rendering the black around the canopy/windscreen, again a nice touch for less experienced modelers.
This is another nice entry-level kit from Academy that will also please more experienced modelers with the molded-in details waiting for the proper paint and washes. If you're concerned that Academy is leaving the detailed kit market, don't forget that they've produced the best F-4B/C/D/J kits in 1/48 scale to date and their recent 1/35 M1A2 Abrams and Tiger tanks are also well done. Nice job Academy!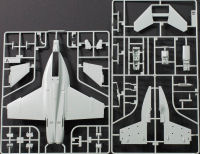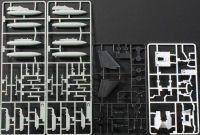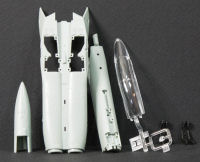 Review: Cybermodeler.com
The McDonnell Douglas F/A-18 Hornet is a twin-engine, supersonic, all-weather, carrier-capable, multirole combat jet, designed as both a fighter and attack aircraft (hence the F/A designation). Designed by McDonnell Douglas (now Boeing) and Northrop, the F/A-18 was derived from the latter's YF-17 in the 1970s for use by the United States Navy and Marine Corps. The Hornet is also used by the air forces of several other nations, and since 1986, by the U.S. Navy's Flight Demonstration Squadron, the Blue Angels.
The F/A-18 was designed to be a highly versatile aircraft due to its avionics, cockpit displays, and excellent aerodynamic characteristics, with the ability to carry a wide variety of weapons. The aircraft can perform fighter escort, fleet air defense, suppression of enemy air defenses, air interdiction, close air support, and aerial reconnaissance. Its versatility and reliability have proven it to be a valuable carrier asset, though it has been criticized for its lack of range and payload compared to its earlier contemporaries, such as the Grumman F-14 Tomcat in the fighter and strike fighter role, and the Grumman A-6 Intruder and LTV A-7 Corsair II in the attack role.

The Hornet first saw combat action during the 1986 United States bombing of Libya and subsequently participated in the 1991 Gulf War and 2003 Iraq War. The F/A-18 Hornet served as the baseline for the Boeing F/A-18E/F Super Hornet, its larger, evolutionary redesign.

Source: Wikipedia
Every product is unique, just like you. If you're looking for a product that fits the mold of your life, the Academy 1/72 USN F/A-18F VFA-103 Jolly Rogers MCP ACA12535 ($40 Incl Tax) is for you.

Inventory Last Updated: Feb 25, 2021